I have a masculine, outdoorsy card today, made with the Cricut Artbooking cartridge and papers from the Timberline Paper Packet.
This card is 6" x 4" and made from a Kraft cardstock base. All of the papers that you see come from the Timberline packet, except the backing for the "Explore" sentiment, which was mounted onto a scrap piece of Colonial White cardstock. If you are exclusively using the papers from the packet, you could use Bamboo cardstock, instead of the Colonial White.
All of the images were cut with the Artbooking cartridge. This includes: the wood frame, winding arrow, small arrows, and the "Explore" sentiment.
The 3 small arrows on the left were left-over negative space pieces from the frame cut out. Don't throw away your negative pieces from your Cricut cut-outs! You can always use them somewhere, whether it's on the same project, or saved for another one.
The sentiment and 3 small squares were cut with Chocolate cardstock from the paper packet. I inked up most of the pieces with Chocolate ink to distress them a bit and make them look "dirty" and outdoorsy. To finish things off, I added a gold colored Durables Triangle Stud to the end of the arrow in the sentiment.
I will be linking this card to:
1. The Fantabulous Cricut Challenge, Challenge #215, found HERE. This week is a sketch challenge, and it looks like this:
2. Heart 2 Heart Challenge, found HERE. The weekly theme is "The Great Outdoors."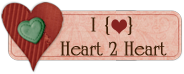 I'll see you in the craft room,